Onboard New App Users With A Welcome Message
The Opportunity
A lot of time and money go into acquiring new app users. Why miss out on showing how valuable your app is right from the start? Prevent uninstalls the first month with welcome messages. Our research shows that 70 percent of users abandon an app within 30 days of download, making engagement crucial during this onboarding timeframe. It's time to give app users a warm introduction with a welcome message.
What Is a Welcome Message?
A welcome message is a push notification that is sent soon after the initial install. Use a 24-hour window as an initial time frame — the timing depends on your app strategy and value. The goal of the messages can vary, but a proven approach is to thank app users and reinforce the app's value proposition or introduce them to a key feature.
Let's Get Started
Push Notification + In-App Message
Add an in-app message to your push notification welcome message to extend its reach. In-app messages appear when a user opens your app — meaning there is no opt-in needed. Through Urban Airship, in-app messages are only shown when the user hasn't interacted with the push notification. Send them to exactly where you want by using a deep link to send users to specific app screens.
Make sending the right message at the right time a snap. Set up an automated welcome message campaign by sending a push notification with an in-app message in our UI.
Extra Tips
A message center is a marketing channel located in an app. Create a persistent message send to the message center that can really drive engagement.
Examples
Illustrate how key app features benefit the user
Educate users on the value of opting in to push notifications or location
Encourage preference customization
Provide a money-saving welcome offer
Purpose: Explain app benefits
Message: "Welcome to Home Builders US! Visit our measurement tools, supply list generator and project timeline helper."
User Benefits: Learn about app's features
Brand Benefits: Show off app value and promote engagement
Purpose: Communicate an offer
Message: "Welcome to Fashion Deals! Get 20% off your first in-app order."
User Benefits: Receive coupons and deals
Brand Benefits: Encourage conversions and obtain user data
Purpose: Complete registration
Message: "Welcome to Beauty Supply Now! Would you like to put your loyalty card on file to collect points?"
User Benefits: Track loyalty points
Brand Benefits: Provide value for customer and drive repeat purchases
Customer Example: Redbox

The retailer extended their welcome message to being a welcome series by combining an automated push notification with its message center to educate and onboard new users. They send a push notification with a free rental code an hour after the app is opened for the first time.

To redeem this freebie, users must also sign up for a Redbox account, which both helps tailor the user's experience and allows Redbox to send more personalized messaging. "It's really a way to educate and onboard our customers," said Kimberlie Christen, Senior Marketing Manager at Redbox.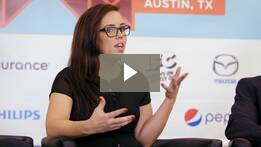 "We launched a push welcome series. It's an onboarding educational series of messaging we push out to our new downloads."
Kimberlie Christen
Senior Mobile Marketing Manager
Result
Open rates for these in-app messages are 33 percent higher with 300 percent greater redemption than its typical freebie.
How to Measure
How well is your welcome message going? A great approach to measuring the impact of your welcome message is to look at user retention. You'll want to look at your devices' report and do a comparison from before and after the welcome message was added to your app.
Tech Requirements
Urban Airship SDK version 6.0+ for iOS and SDK version 5.0+ for Android/Amazon
Tech Help
Access a simple how-to that will walk you through our marketer-friendly web-based UI to set up your first welcome message.